Any One Directioners on NB? Well,other than me?
Oh it has been a long time since I've called myself that! They first became popular at the start of my 8th grade year, so around when I was 13. I actually went to their On the Road Again concert in 2015!
I love One Direction! They first became big when I was about 10 or 11, and I've always loved their music. We had the Up All [name_u]Night[/name_u] album CD and I'd listen to it on my way to school. I still listen to their music a lot, but on a big playlist with some of the members' solo songs too.
My sister was a major 1D fan made me smile seeing this question she was obsessed with [name_m]Zayn[/name_m] had a cardboard cutout of him & everything
I loved One Direction and then after [name_m]Zayn[/name_m] and [name_f]Gigi[/name_f] stuff, I started listening to their music again. [name_u]Story[/name_u] of my Life is my song!! Especially the music video!
I will always love One Direction because it was one of the first things I loved that I didn't really care if other people didn't agree? I've always been too caught up in what other people think of me and wanting to seem "cool" or "agreeable" to everyone. Or at least feeling like I had to defend my interests to people who don't agree. One Direction was the first interest where someone (usually a boy) would see my One Direction homework folders (I got them freshman year of high school and they lasted me all 4 years so I just kept them) and be like, "Oh you like One Direction?" And I'd just say, "Yup." and move on
Ikr! I'm probably one of the only people who likes it in my grade
See my sister was a massive [name_m]Zayn[/name_m] & [name_u]Perry[/name_u] couple fan she proper loved them and I remember the tears [name_f]Helen[/name_f] cried 1D split up ah good old days!
They were really popular when I was in 8th grade! That would've been 2012-2013. Once I got to high school, they were sort of infamous as the boy band that all the girls were obsessed with so you had the boys making fun of girls who liked it and girls who didn't like 1D and thought they were cool because they "weren't like those other girls."
The number of people who came to me and said, "You know they broke up, right?" when they saw my One Direction school supplies that I collected over the years. I was like yes, let me get my homework out of my One Direction homework folder and take out my One Direction [name_u]French[/name_u] binder and flip the pages in my One Direction notebook to this chapter, and you think I didn't hear the news that my extremely out-of-touch [name_u]French[/name_u] teacher even heard about?
Ya I was in kindergarten and a dancer in 2013/2014 so that's how i listened to their music. It's just iconic! I never called myself a 1 directioner until like a couple weeks ago. I do love their music and have since 2013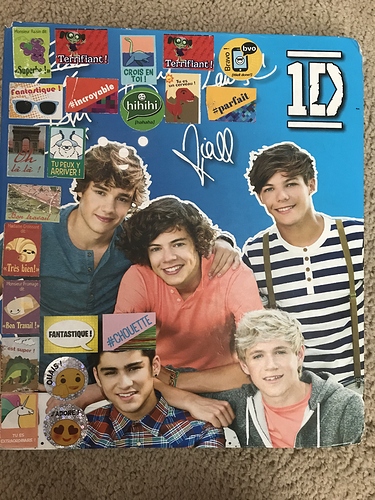 I still have the [name_u]French[/name_u] binder because I'm taking [name_u]French[/name_u] in college so I kept the notes! This would've been from 2013
. Complete with their fetus direction hairstyles and my [name_u]French[/name_u] stickers.
Zayn and [name_u]Liam[/name_u] are so different now
I used to LOVE One Direction back when I was in 7th grade
I'm 32 and used to live in [name_u]Harry[/name_u] [name_m]Styles[/name_m] home town haha. [name_m]Holmes[/name_m] chapel. I love one direction they are great. And so does my 5 year old son.