DW (24) ~ [name_f]Artemisia[/name_f] [name_u]Indigo[/name_u] Crowley
— thick wavy, dark brown hair that scrapes the small of her back.
— dark brown - almost black - eyes, with gold flecks.
— light-brown complexion.
— 5'7".
DW (25) ~ [name_u]Mercury[/name_u] [name_f]Elisabetta[/name_f] Peacock
— very curly, deep brown hair to about her chin.
— very dark brown eyes.
— mid-brown complexion, with dark freckles across her face.
— 5'2".
year one (24/25) ~
year one

[name_f]Artemisia[/name_f] lives in [name_m]Boston[/name_m] with her best friend, [name_f]Severine[/name_f] [name_f]Mathilde[/name_f] D'[name_f]Aquitaine[/name_f] (24). She's currently working as a waitress whilst she studies for a masters in art history. [name_f]Severine[/name_f] is a manager at a small, independent bookstore. A little over a year into her course, [name_f]Artemisia[/name_f] meets a girl named [name_u]Mercury[/name_u] in a little coffee shop. They get along very well, and though they start out as friends, it isn't long before they fall in love.
year two (25/26) ~
year two

After a year of dating, on a holiday to Greece, [name_u]Mercury[/name_u] proposes with this ring:

(picked my own, because the links weren't working). It's quite soon, but they both know that this is right.
year three (26/27) ~
year three

Although wedding planning has been quite stressful, it was definitely worth it. [name_f]Artemisia[/name_f] and [name_u]Mercury[/name_u] get married in one of their favourite museums at night in winter, close to the start of the new year. There is no official theme, but everything is magical and quite witchy, especially whilst surrounded by art and artifacts. It's perfect, and it even snows.
[name_f]Artemisia[/name_f] wears the dress on the left, and [name_u]Mercury[/name_u] the one on the right.



They dance to [name_m]Can[/name_m]'t Help Falling In [name_u]Love[/name_u] at midnight.
They travel to [name_u]Paris[/name_u] for their honeymoon, spending hours each day exploring the Louvre.
year four (27/28) ~
year four

After coming back to [name_m]Boston[/name_m] to start their lives as wives, [name_f]Artemisia[/name_f] and [name_u]Mercury[/name_u] decide to move into a beatiful little townhouse; everything's quite compact, but it's home, and they couldn't be happier.
year five (28/29) ~
Though both want to start a family, they decide to start by getting a pet together. They adopt a delightful, long haired cat from a nearby shelter. Her fur is every colour swirled together - they decide to name her Odyssey. Later that year, Mercury's parents Leopold and Juliet "Jet" come to visit for almost a month. The house wasn't designed for two reasonably chaotic married couples, but they make it work. Her parents are both free spirits, and there's certainly never a dull moment with them around! However, it's a breath of fresh air when they have the house to themselves again. Leopold and Jet vow to help Artemisia and Mercury out with their future children. The couple decide to start looking for a sperm donor so that they can have children.
year six (29/30) ~
Artemisia gets pregnant! Although they originally weren't going to find out the sex of the baby, they give in at the scan. They're having a little girl! They decide that they will name her Eos Vienna Noor Crowley-Peacock.
year seven (30/31) ~
At dawn on the 26th of February the next year, little Eos is born! She has a little bit of fluffy dark brown hair and big dark brown eyes.
year eight (31/32) ~
Although keeping track of a one-year-old is challenging enough on its own, Artemisia's brother Leonardo, who is a single dad, gets sick. It isn't serious - and he's expected to make a full recovery - but whilst under treatment, his five-year-old twins Opaline Zelda and Peregrine Laszlo stay with Artemisia and Mercury. Over the three months that the twins are there, they adopt Eos as their honourary little sister.
year nine (32/33) ~
Artemisia's little sister, Celestina, gets engaged to her long-term boyfriend, Bastien, and asks Artemisia to be her maid of honour. It's a lot of work, but the wedding is absolutely enchanting. Celestina wears this dress: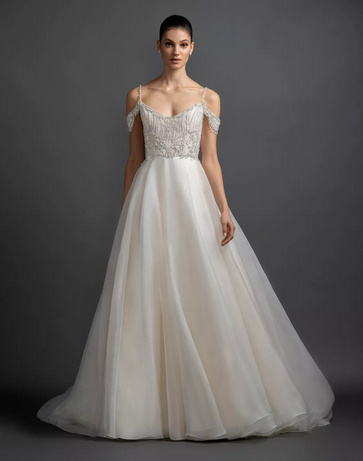 A few months after the wedding, Artemisia and Mercury decide that they're ready to have another baby - Mercury will carry it this time. After picking a donor, they find out that they are pregnant in October, and couldn't be happier.
year ten (33/34) ~
On the 14th of July, their son Daphnis Ulysses Otto Crowley-Peacock is born. He already has a few wispy auburn curls, and adorable big dark brown eyes.