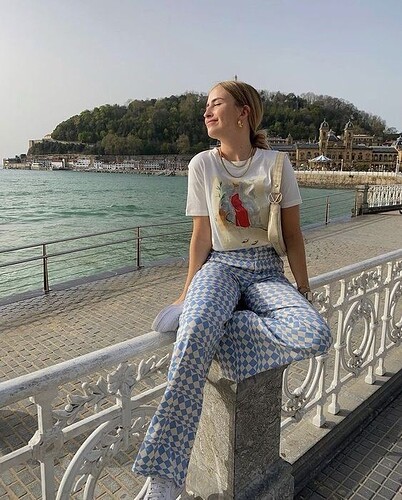 Ann-Marie " [name_f]Anna[/name_f] " [name_f]Rachel[/name_f] Chesham (17) is Matthew's girlfriend, confident and unintentional obstacle in the way of Ishana'a crush, who really doesn't want to see the kid heartbroken by the reality of things. A soft-hearted, compassionate and thoughtful young woman, Anna's relationship with [name_m]Matthew[/name_m] stemmed from the reassuring presence she has, with him never feeling judged or looked down upon by her. Part of this stems from how [name_f]Anna[/name_f] was treated thanks to her ADD - having tried hard to tone down her hyperfixations in middle school, hoping to be spared more torment and teasing - however she's now comfortable in her own skin and is surrounded by people who are nothing but understanding and empathetic towards what she experiences and how her ADD manfiests. Currently, Anna's absolutely mad about postit notes - using them to keep herself organised, and she also has a strong appreciation for aesthetics, having some of the neatest, most visually pleasing notes in class when she's focusing on her studies. Her parents are very happy to indulge her stationary interests, and actually run their own gift shop, where [name_f]Anna[/name_f] helps out on weekends [being a paid employee for her dedication], following on from her older brother - who's now 22 - who also got his work experience at the store.
Although some are cynical about her faith, [name_f]Anna[/name_f] genuinely believes in [name_m]God[/name_m], without feeling everyone around her has to follow this. She privately wishes her parents would calm down in their belief she and her siblings need to marry those also following Christianity, feeling it isn't a promise of someone's character: case and point [name_m]Matthew[/name_m]. Anna's brother's confided in her that his girlfriend at college is Jewish, and has only just revealed this to their parents. They thankfully didn't take issue with this, but [name_f]Anna[/name_f] knows being non-religious is a much bigger issue for them, case and point being her paternal aunt, who has a strained relationship with her brother since she revealed she was agnostic following her return from years working abroad as part of a charity. She encourages her younger siblings to not view those outside of faith poorly - she's the second born of four - and they thankfully are in agreement, however [name_f]Anna[/name_f] knows she wants to be with [name_m]Matthew[/name_m] long-term, and she is not going to ask him to convert or pledge himself to her families beliefs just to see her mom and dad happy.
Currently Anna's making plans to study geology at university. Water skiing is something her brother and his girlfriend got her into when she visited them during the summer, and she belongs to her school's netball team, being very regretful when she misses one of Matthew's swim contests because she's called to the court elsewhere. Their favourite dates are going for picnics outdoors and using Anna's polaroid camera to capture wherever they're visiting together. Thanks to the relationship, the pairs friend groups have come together - leading to a romance developing between two of their friends, something [name_f]Anna[/name_f] jokes a lot about with [name_m]Matthew[/name_m] given the circumstances - and she's happiest being surrounded by those she's close to. Given the stress Matthew's felt regarding college, [name_f]Anna[/name_f] takes time to talk to him about the future, and she's proud to be his main source of hype, always extending her ear to listen or providing him help on focusing on his strengths and capabilities.
---
@Tasia
@jinxed_peach
some tags for the forum ^u^