Did the update get rid of the namehunter feature? [name_u]Or[/name_u] is it just hidden?
Namehunter has been temporarily retired, but there will be a new improved version coming very soon – we hope in [name_u]January[/name_u].
Cool, thanks [name_f]Katinka[/name_f]!
I'm full of excitement for Namehunter 2.0!
So excited for this feature to come back! It's something so unique to nameberry and one of the features I value the most about this site.
Me too! I used the namehunter all the time so keep checking for the new one to be posted!
Was just thinking about how much I missed the name generator! [name_u]Happy[/name_u] to know it'll be coming back in some form !!
yayyyy i've been missing it. I thought it was gone forever :'(
also I can't seem to access any of my old name lists…are they coming back anytime soon??
You should still be able to access your lists! What happens when you try? At what point does the problem occur and are you seeing an error message?
What browser and device please?
since just after namehunter disappeared I haven't been able to access them, there's no error message, they just never load, it shows the loading sign and even when i've left it there for hours it still hasn't loaded. When i'm on nameberry home and I click on 'account' it just shows this…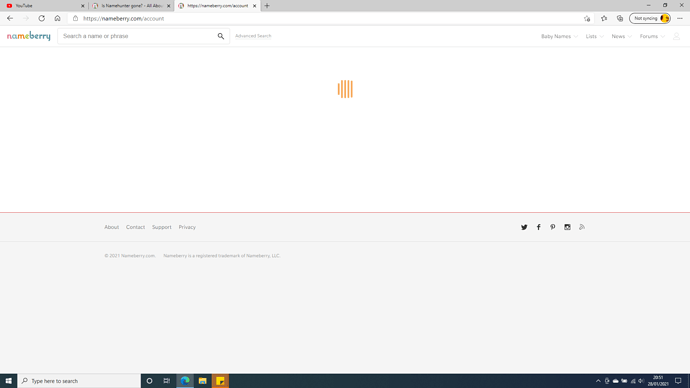 this happens on my phone - iphone 8 plus on safari, and also on my laptop on microsoft edge
Thanks @Etymology. That's definitely not right! Would you mind trying in private/incognito mode and also trying clearing your cookies + cache? It might help us to narrow down the problem. If no change, I'll see what the tech team suggests. Sorry about this!
@katinka I wanted to add that I'm experiencing the exact same issue! I'm using Chrome on a Macbook [name_f]Air[/name_f].
Sorry to hear it, @margaretlynne87! Would you mind trying the above steps too just to see if any of those makes a difference?
I tried incognito mode, and I was indeed able to load them!
OK, in that case the issue may be a plugin conflict. [name_f]Do[/name_f] you use any add-ons? If so, try disabling them and relaunching your browser.
Clearing cookies and cache (if you haven't already) may also help to resolve it.
this seems to have sorted it for me! thank you!!
Wonderful news @Etymology, thanks for updating me
Any update on the new Namehunter? I don't mean to rush you, I just wondered. It's one of my favorite site features!