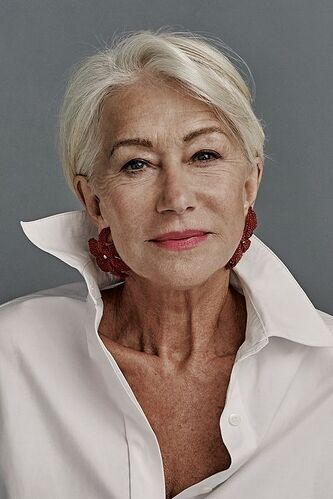 Frederique " Freddie " Yvonne Labossiere (57) is Amelie 's older sister who lives in London. She knows that her sister is trying her best to be a good mother to Mira and let her reach her dreams despite the limitations that she may have , but she thinks that it's impossible up until she breaks away from the toxic marriage with Pierre. She knows that the reason Amelie got into the marriage in the first place was because of the toxic patterns they both knew from home - their father, Armand , always showed blatant favouritism towards her for "at least knowing how to use her hands and doing something useful" because Armand disapproved heavily of Amelie 's enchantment with history books and especially with Robespierre - he told her that there was no use trying to understand a man so bloodthristy, hungry for power and arrogant as Maximilien Robespierre, however Freddie now knows that belittling the historical figure was just a way for Armand to project his own bad traits and insecurities onto a man who died over 200 years prior because he just couldn't bear that his daughter looked up to a man other than himself.
"He at least had principles that he lived by. He never once took a bribe in his entire political career, loved animals and lived a modest life until the very end, starting from the bottom as a humble lawyer. What do you do? You just live in a mansion flaunting wealth and expecting everyone to bow down to you without spending a single second to earn their respect. Yes, I admire him more than I do you, now what?!"
Those were the words Amelie told Armand when he was trying to burn her books about the Revolution in the fireplace and even suceeded with one , which simply sent her into a rage and she also told Freddie how it was partially her fault for Amelie being the black sheep of the family , because Freddie never once stood up for her younger sister and Freddie 's passion for sewing was much more appreciated by the family than hers.
What followed was a long period of no contact between Freddie and Amelie - the latter began studying at the univerisity of Aix-Marseille to move away from Paris and her family, while Freddie went even further to separate herself from the environment and went to study fashion design in Cardiff. She had one love at college - a fellow student of the same univeristy, a very charming Welsh guy - but remembering her father's behaviour and mistresses along with her mother's exhaustion she made a vow never to marry. Amelie and Freddie were in their mid-30s when they reconnected so that they could support their mom emotionally and make her aware of Armand's emotional manipulation.
Freddie briefly envied her sister what seemed like a perfect and glamorous love life and successful, notable career in the field she loved however it quickly became appearent that Amelie 's natural gentle and caring side was wilting in favour of elitism that Pierre inflicted in her. Amelie was dealing with the shallowness of her once modest but much happier life by drinking , which then developed into appearent alcoholism. Her drinking stopped completely when Amelie got pregnant with Mira and stayed at home with her for 3 years, however the publication of her (& theoretically Pierre 's ) second book reignited the Boisclair family's need to keep up appearances and made Amelie go into relapse. From that point on Freddie became her sister's (and then niece's) shoulder to cry on regardless the distance that was between them across the La Manche Channel.
She lives in London working in an atelier there and having a small yet loyal base of customers as a fashion designer. She loves the hustle and bustle of the city, going to museums always reminds her of her sister's fun facts about history. She also has a French Beaceron named Voltaire who is there to protect her small suburban house from potential intruders. A very sociable and extroverted person, she is part of a London book club where she socialises with women in her age group - one of them, Nerys , is her best friend and has been teaching her Welsh for years while Freddie offered the same kind of help with Nerys ' French. They have since both reached intermediate level. Nerys is the only one who knows about the troubles of Freddie 's family and the fact that Amelie and Mira want to live with her in London to get away from Pierre so that Amelie can go into rehab and Mira can start forming healthy , functional friendships, escaping from blatant ableism of her father and environment. Freddie also encourages Amelie to connect with Liliane and her mother so that their testimonies can speed up the process of divorce.