[name_m]Hi[/name_m]! I'm Riv/Twig she/they
Hello to everyone who is new! I'm [name_f]Evie[/name_f] (she/her)
---
In other important news, [name_f]Tea[/name_f] (@oceansea) is one like away from a great reply! Go like it!
hello autumn! i'm ellory, currently having a gender-identity crisis, so any pronouns are fine. :))
---
i took a teenberry hiatus for a short while, but i'm back! how is everyone?
ahhahahaha thanks evie!
here's the badge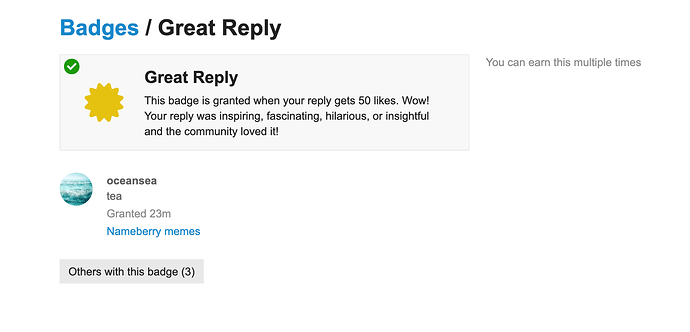 hey ellory! i'm good. i applied for a job this morning so fingers crossed!!
i haven't been on here in a little while, i'm tea she/her how is everyone?
awesome, [name_f]Tea[/name_f]! I hope you get it and everything works out!
[name_m]Hi[/name_m] [name_f]Autumn[/name_f]! I'm [name_u]Rain[/name_u] (She/Her).
Good luck! I hope you get it
[name_m]Hi[/name_m] [name_f]Ellory[/name_f]! I'm good, how are you?
No crap, there is LITERALLY someone in my school named R0ger D@ngerfield.
[name_m]Hi[/name_m], [name_f]Autumn[/name_f]!
What are your pronouns?
I'm [name_f]Em[/name_f], they/he.
Y'all my Aunt's having a baby! Don't know the gender yet, but I'm so excited for the name already!
congrats to your aunt!
by the way
hello
[name_u]Happy[/name_u] [name_m]Thursday[/name_m]!
Grapes are lovely. I love grapes.
hope you're well!
OMG I JUST FOUND OUT MY SISTER IS PREGNANT & I WAS COMING TO POST ABOUT IT
My aunt is also due in early january w/ a girl (will be named Aria :]), there is a slight chance we will share a b-day!
---
Also rip my sleep schedule I have been speedrunning watching the DSMP bc i'm sick of pretending i know what my friends are talking about
i actually like it a it tho lol
Lovejoy is amazing, I have been listening to Wilbur's music for a while but only just found out about his band a week ago! I can't get One Day out of my head :]]]]]]]]]]]]]]]
im about ready 2 as well lol
Hey Rio! I'm Em, he/him & they/them
Life update: Today I got my official ASD/Asperger's diagnosis, although I've known I was autistic for a long time before this lol – But my mom wants a second opinion bc ive had so many diagnoses thrown at me so I have a 3h follow-up w someone different tomorrow :'[[[[[[[[[[[[[[[[[[
also my mild stutter has turned noticeable & suddenly im much more colorblind than i was before, i have literally no clue what 2 do, somebody PLZ help me!!!
---
I'll probably give out candy to lil' kids
maybe dress up for them
i wanted to go trick-or-treating last year but i couldnt, now im over it lol
YES
Subtle gay anthems (add on to this, @ethelmary since your the only TL4 teenberry im calling on you to wiki post this, ik i do this a lot sorry lol): Serotonin by Girl in Red (i almost typed that the other way around xD), Sweater Weather by The Neighborhood, Lemon Boy by Cavetown
Yay!
Ello, Ellory!
Oh congratulations to her!
And congratulations to your aunt too! It's cool that you may share a birthday
i find it kinda funny that right after my nephew was born i'm getting a niece & a nibling of unknown gender
Ooh congrats!!
Congrats! That's amazing!
Aww sweet
---
[name_m]Hi[/name_m]
And why
Winter
Spring
Summer
Fall
[name_f]Autumn[/name_f] because nice weather