She gives me [name_f]Juno[/name_f] vibes for some reason
your favourite holiday?
[name_u]Christmas[/name_u]!
the coolest name you've encountered
erm right now [name_f]Evolet[/name_f]
do you know anyone in real life who likes names?
Nope!
the emoji you use most often
The sobbing emoji
an underrated personality trait, in your opinion
Quietness! Quiet people are great listeners!
a word you struggle to spell
um idk maybe indubitably?
how nice do you think you are?
People say I'm nice, but I don't think I am
the funnest fun fact about you
I am too addicted to Disney and can easily inform you of any Disney fun fact your heart desires
[name_f]Do[/name_f] you have to go through customs if you swim to [name_f]Russia[/name_f]? Anyway, probably not the best idea, [name_u]Laurie[/name_u]
[name_m]Hi[/name_m] Taisia! I'm [name_f]Em[/name_f]!
She looks like a [name_f]Mara[/name_f] or [name_f]Claire[/name_f] to me
Some navy officers will probably shoot me. But it will be fun!
Well, if it's fun…
No, but seriously don't swim to [name_f]Russia[/name_f] please. What would we name nerds do without you?
guys oh my god. so i can't go to my choir concert since there will be 100+ people there and that makes me uncomfortable, plus like all the schools are going online and the pandemic is getting worse in the area. so I told my choir teacher and as an alternative assignment, I have to write a 7-8 page research paper, SINGLE SPACE ??? so I'm just not gonna do it. this is what I said to her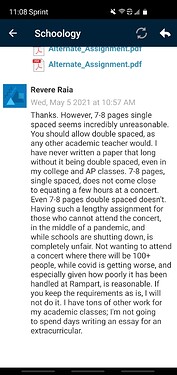 if I fail this class, I don't care. I have more than enough credits and the colleges I am going to apply to don't look at sophomore year. this will have 0 impact on my life
I couldn't find any information on how long it takes to swim to [name_f]Russia[/name_f]
Disappointing
This is completely right and if the teacher reacts badly, that's her problem
YES! That assignment is completely ridiculous and you are 100% right
hiiii
hows your day been so far?

and isn't the name olivine kind of amazing
This was on 12 Year Old Laurie's list™
Meh. I have a page-long paper, a full-blown research paper, and a quiz on [name_m]Macbeth[/name_m], plus finals
Oooooooh I like it
Wow, 12 Year Old Laurie™ had good taste!
oh, did i not tell you? i am twelve year old laurie!!
aside from the fact that i'm the same age as present laurie and a totally different person
whoa
me tooooo
Hello
How are y'all today?
hi elise
i'm good, how are you?
That's good! I'm doing good, thanks.
Perfect! You worded that so well!
Heads up, I think it does say your school name in there, if that bothers you. You might already know, I'm just making sure.
whoops lol, well I'm assuming none of you have the desire to track me down so I think I'll leave it
well I got a response

and she basically was like "you can do double space, choir isn't an extracurricular, etc etc" (choir is definitely an extracurricular, ma'am)
which like. way to backtrack when I call you out, ma'am.
but you know what? I'm not doing it. I'll take the f, because it won't negatively impact me at all
(also I'm not responding to her because I won't want to add fuel to the fire lol)
so that was a fun start to my day! how is everyone else?
Why can't she be a name nerd from Russia… we exist here, really! Hahahaha