I agree. I always set to "public" & "show on vote".
Poll
Option
Otpion
Optino
Opiton
can you blur emojis?
omg i thought you couldn't
Summary
edit: I thought I was gonna get a notification
ooh i have an idea
somebody edit this wiki to tag me
let's see if i get notified!
hello darling
@Miss_Mayhem, did you get notified?
no

i only got notified for my wiki being edited
Potatoes
hrmmmmm
wait I want to try something now
what are we trying
claudie can you tag me in my wiki plz? thx!
Wait did this tag you?
oNe TwO tHrEe FoUr FiVe SiX sEvEn EiGhT nInE (no ten)
[name_m]Hamilton[/name_m] fans get it
test
2021-06-09T18:11:00Z

Other
It's 1:26 here.
here it's 10:32 lol, I don't know why I voted
how did you do this???
I've made spreadsheets for my lists and i could have just shared them like this the whole time?!
As @EllieWilbury suggested….
---
𝒕𝒉𝒆𝒚/𝒕𝒉𝒆𝒎 ~ 𝐉𝐨𝐬𝐞𝐩𝐡𝐚 𝐀𝐥𝐢𝐞𝐧𝐨𝐫 ☾ 𝐈𝐝𝐚 𝐁𝐥𝐚𝐧𝐜𝐡𝐞𝐟𝐥𝐞𝐮𝐫 ☾ 𝐃𝐢𝐚𝐧𝐚 𝐈𝐦𝐧𝐞𝐜𝐡𝐢𝐥𝐝𝐢𝐬
it's hard to describe because it just does the thing but:
for your title row (the things in bold), do "thing one | thing two"
then under that, to make the line, do "— | —"
then for all the subsequent lines do "thing one | thing two" underneath
so this:
| name | rank |
| --- | --- |
| olivia | one |
| amelia | two |
| isla | three |
| ava | four |
| mia | five |
is typed as: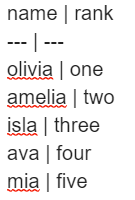 credit goes to @OpheliaFlora really !!
---
sylvester "sully," micah, jem, 'imi ola, lydiebell, jane, jean, charlie
Optino sounds like a name lol