Khoa—Vietnamese boy's name, meaning science or intellect. Pronounced 'kwaa'. Thanks
I had a friend (female) with the middle name Ashwina. It's of Sanskrit origin and means 'child of the star' :))
The page for "[name_m]Adonai[/name_m]" doesn't list its Hebrew Origin or meaning. People should know that they are essentially naming their sons "God".
@JoeySommers This is an excellent point. I have added this. Thank you.
What about Yve? It's a nickname for [name_f]Yvonne[/name_f] or [name_f]Yvette[/name_f]. Pronounced like [name_f]Eve[/name_f]— it's like [name_m]Yves[/name_m], except for a girl.
I would love to see Gaura in the index. It is pronounced GAU-rah, if I'm not mistaken. It is a flower name that is also known as Whirling Butterflies, so it would probably lean more toward a girl's name.
The closest name you have in the index is the Hindi name [name_f]Gauri[/name_f], a girl's name meaning fair, pale.
The Gaura flower aka Whirling Butterflies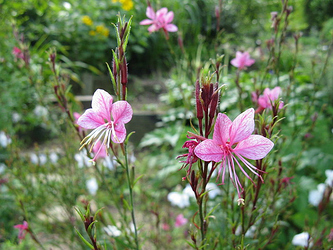 I forgot Vasundhara on this list. All are female.
Not [name_f]Indian[/name_f] but I also know a Sameera. I think it's a variation of [name_f]Samira[/name_f]
Naeemah (pink) Biana (pink) Dexley (blue)
Airmyne (f), only use I know of it Airmyne [name_f]Jenney[/name_f], who lived at Calke [name_u]Abbey[/name_u]
Cooke (m), most famous is Cooke Maroney, [name_f]Jennifer[/name_f] [name_u]Lawrence[/name_u]'s husband
Welcome to the community!
Thank you for those great suggestions – I grew up literally only a few miles from Calke [name_u]Abbey[/name_u]! Beautiful place, especially in the autumn
@katinka I love Calke [name_u]Abbey[/name_u]! Such a special place and an amazing family history
Delby!! (unisex)
I know it's VERY rare, but maybe if it's on nameberry it would gain popularity (as in maybe have 1 birth a year
) There have only been five recorded births of people named Delby since 1922 to 2018
but here is some info anyway.
I can't find a meaning, sorry!
Some fun, modern (some invented) names that would be lovely additions:
Winverly (g), Knightley (b), Sophelia (g), Wrenyth (g), Becklan (b), Isabellope (g), Fitzlan/d (b), Renver (b).
Zamilla (g) --> (Greek, Old Greek) having the strength of the sea
What about medley? If you have lyric, harmony, aria, etc.
Lira as an alternative to [name_f]Lyra[/name_f]
Sei- six
Tercero- third
Apostle- a different religious name similar to bishop, deacon, [name_m]Saint[/name_m], etc
Cardinal- a bird name
Curie- in honor of [name_u]Marie[/name_u] curie
Semana- week in Spanish
Serrano- food name
Blazer- a spin on blaze; also an article of clothing
Senator- an occupation name
Silène, male, [name_u]French[/name_u] form of Silenus
Míriel, female, Quenya meaning "jewel-child"
Khalof, gender-neutral title for Dothraki ruler
Sovereign and [name_u]Majesty[/name_u], to fit in with the legal kiwi trend
Olixander, alternate form of [name_m]Alexander[/name_m] influenced by [name_m]Oliver[/name_m] and its kin
[name_m]Wells[/name_m] (for a girl)
[name_f]Naja[/name_f], female, Greenlandic meaning "younger of sisters"
[name_f]Nahia[/name_f], female, Basque meaning "desire"
Vaiana, female, derived from Tahitian meaning "sea cave"
Apsara, female, water/cloud nymph of Hindu mythology
Cerula, female, Latin for a small piece of wax used to make critical remarks
[name_u]Eldra[/name_u], female, Romani derived from Etheldreda ([name_f]Audrey[/name_f])
[name_m]Kip[/name_m] could also work as a girls' nickname for, say, [name_f]Christabel[/name_f]
Maybe Carmody as a surname name