I cannot believe I forgot to post this waaaay back in [name_f]April[/name_f]!
One of the families I nanny for had a second baby, a girl, four months ago now. The sweet babe has been busy as a bee with her growing and giggling since then. She's a breeze of a girl so far, not often a fusser and a helpfully good sleeper. She's an absolute chunky cherub, and her name is N0elle L0xley!
[name_u]Loxley[/name_u] is a family name on her father's side. It's been passed down through a handful of generations, and now baby [name_f]Nell[/name_f] (as I've nicknamed her, and call her typically) bears the honor as well! I love love love her special middle!
She's a sister to Marg0t K!m, who, at two years old herself, loves to dote on her baby sister… for a few seconds at a time, before skipping off to her next activity.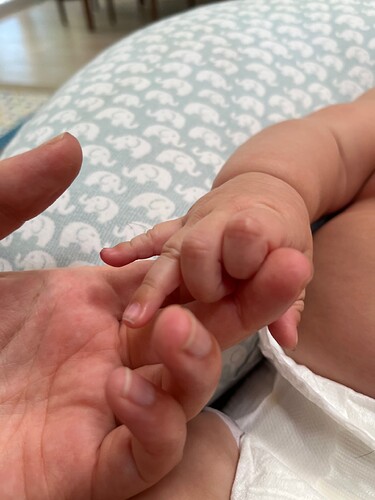 [name_f]Nell[/name_f] and I, having a little moment.