Hi!! I am considering putting down a deposit on a female chocolate australian labradoodle girl, but Im caught on a few things, least important of is her name. I currently have a caramel labradoodle named [name_f]Winnie[/name_f] [name_u]Rue[/name_u] (1yr) and I want a name that flows well and has a similar vibe. Having a name is definitely not going to influence my decision on this, I just want to get another factor out of the equation so I can focus on the more important ones.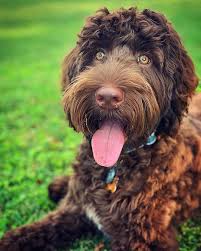 picture for reference!
not account owner, friend of theirs and I don't have my own account on here so account owner is letting me use theirs!