yep I've decided we need another one of these because they're my absolute favourite forum and so why not flood the forums with more of this?
for anyone new description of how to play is below!
poster gives a full name and age for a fictional person as well as an image of them. a paragraph of description as well (as short or long as you want, there's no pressure). the next poster will create a person that is related to the previous person in some way (it doesn't necessarily need to be by blood: it could be a friend, coworker, etc), then it continues.
tw stands for trigger warning, mw is maturity warning - please blur any sensitive subject matter for other posters comfort
@chamwue @moonwriteen @CherryBomb50 @Vintage_Vibes @A.B.Galaxy @I_meme_it @wandering_willow
---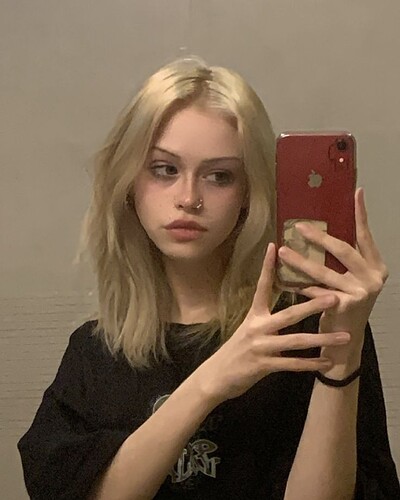 Charity Deanna Metcalfe (20) is an aspiring musician from Tampa, Florida who belongs to a metal/grunge hybrid band named CARNIVAIL, where she plays lead guitar and provides backing vocals. Music has always guided Charity a grounding force in life through the somewhat chaotic environment she grew up in: her parents frequently moved while she was young thanks to her dad's job, and she jumped around interests, friend groups and buildings with only her younger siblings for company - not ideal as her brother's fought like cat and mouse for their own amusement. She doesn't begrudge her parents for the disruptive aspects of her childhood though, as they both came from poverty stricken neighbourhoods and Charity appreciates they just wanted the family to be settled, but when they finally settled shortly after she turned 15 it was an elating moment for her. Since high school, Charity's belonged to several bands - all tied to grunge - but CARNIVAIL is the most consistent, as its members proved serious about pursuing performing full-time and arranging marketing, promotion and branding. Still it hasn't been the easiest of processes and the line-up has been through a few changes, with only Charity and the bassist being founding members who've stuck it for the whole timeline.
Aside from her music, Charity loves animals - especially the family's rescue German Shepherd, Duchess, who she dotes upon. She's just moved into her own apartment with her best friend and they co-own two rats - Charity's is called Rupert - who are cared for dotingly; helped by how the two girl's work different shifts. Charity does nights at a 24-hour gas station, which never phases her in spite of the worries expressed by her parents when she took on the job, while working on developing her musical pursuits; having played a few smaller gigs recently, but the band are finally picking up online thanks to clever marketing orchestrated by the members. When she isn't working or playing guitar, Charity's swimming or running to burn off the energy she frequently builds up, having been diagnosed with ADD when she was 12 and she prefers finding means of keeping busy whenever possible. She'll never claim to be the greatest writer or lyricist in the world, but when Charity wants to compose something meaningful, political or introspective, her words are surprisingly poignant for a young woman seemingly unphased by everything.