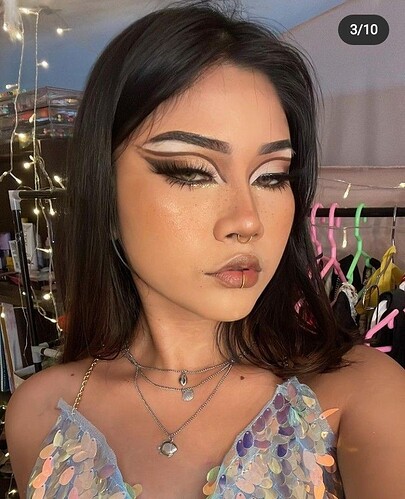 [name_f]Clover[/name_f] Saeko Ito (26) is the eldest child of [name_m]Norman[/name_m] and [name_f]Margaret[/name_f], who unsurprisingly has nothing much to do with her mother. This is a somewhat ironic situation as Clover's career success has caused the socially obsessed [name_f]Margaret[/name_f] to want more to do with her: after all, your daughter getting her first editorial shoot for a popular fashion magazine would increase anyone's interest in you. She's been pestering [name_f]Clover[/name_f] for information about the project, getting vague and noncommittal answers in return, with her daughter being most shocked that her mom actually thinks this is going to work. It's even more difficult as [name_f]Clover[/name_f] tries to be there for her youngest sister, visiting to see she's doing okay and offering as much emotional support as she can - trying to convince [name_f]Margaret[/name_f] to let her stay over at the apartment [name_f]Clover[/name_f] lives in with her partner - but of course, if their mother's around, she's trying to steer the attention back onto herself.
Given Margaret's nature, a lot of people are surprised by how well-adjusted and level-headed [name_f]Clover[/name_f] proves to be. For her, designs and reading the fashion magazines she collected were the perfect escape from her mom's antics, and she spent a lot of time with her dad or sisters' when she wasn't hanging out with friends or attending Fashion Society events at school [being vice president of that club by the time she was 17]. Some of her closest friends were aware of what a nightmarish woman Clover's mom was, but she kept it quiet after one told their own parents, who questioned her when they came to pick their daughter up from a sleepover; leading to a blazing row in the driveway, mortifying [name_f]Clover[/name_f] and her friend. This incident didn't ruin their bond - she is grateful for what was said - but made her cautious about expressing things to people, as she doesn't want to place more undue pressure on her dad, who she feels bares the brunt of her mother's selfishness, bigotry and irresponsibility [just to name a few of Margaret's glowing qualities].
[name_m]Rook[/name_m] Ferryman's sister is someone [name_f]Clover[/name_f] recently became closer to after they were paired up to work on a photo shoot together and bonded due to relating over their less than ideal mothers'. Clover's become even more expressive of how much her dad means to her upon hearing of how the Ferryman siblings were just left to be paraded around, and has given special tickets to an upcoming show she's working on to him for safe keeping. They're for her dad and siblings but she absolutely is not letting her mother attend, as [name_f]Clover[/name_f] feels stressed enough about this - surprising given she's usually collected and composed no matter what - but thankfully her mom's not that interested because it clashes with some big party hosted by their rich neighbours. To relax, [name_f]Clover[/name_f] enjoys yoga and cooking, having developed an especial love for Japanese cuisine which she gained from her dad. She even has cultural elements in her designs due to wanting to pay homage.
Rook is credited to yours truly