Oh my goodness the forums are so nostalgic
I forgot about the comments at the bottom of the main page! I used to get on everyday and go see what sort of drama was cooking up (some of those got HEATED)
The NSRN was one of my favorites! I used to also try and search up some of my favorite names and hope they'd show up on there
I'd try to search mine so many times that they'd show up in the Today's Most Popular Names
I forgot about signatures and how they used to show up! I was browsing through the forums and it gave me a wave of nostalgia
I also found old posts of mine where I was asking about names
This is so funny! I had very different taste back in the day
This is so cool! They have one from 2 days after I joined! Thank you so much for finding this
It's so lovely to see comments from a few years ago left from users that I actually recognize
Though I admit I did get confused when I clicked 2014 and got a comment from an active user that said it was posted 17 minutes ago. And signatures (!!!) were the best! I didn't know there was a NB store though, but that looks interesting!
@OpheliaFlora I found one of your posts on the wayback machine!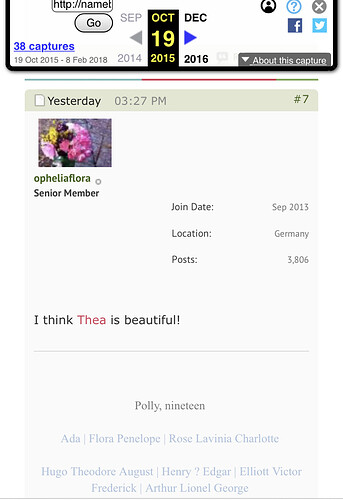 Fun to find some users from years ago that are still active
It isn't letting me look at posts
Is it maybe just my internet?
Sometimes it doesn't work. Some of the posts don't show up but some do. I had to go on a few different dates to get some to show up
Oh wow! So nostalgic seeing the forums before the 2020 update! (I would look at them all the time, but couldn't make an account due to glitches in the system!)
I only made an account last year but I used to read the blog and the forums years before that. I miss the "names viewed right now" feature!
Me too
"baby names, only juicier" - I love it
@leafsgirl44 is this you from 2015?
also if it isn't or if you don't want it on here I can delete this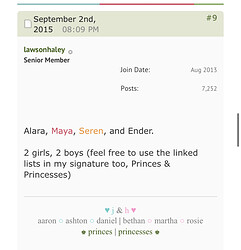 ---
Also @futuremama ive only been able to mainly get onto threads that were featured on the home page in this section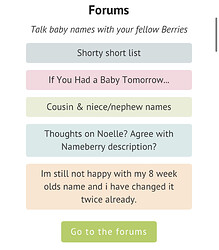 I miss: Coloured texts on signatures
A new feature I wish we always had: Likes and notifications
And not much has changed name-wise, haha! But I do miss signatures so much, I'd trade almost all the new features for a signature (the only one that is truly brilliant is getting notified when someone mentions you in a post)!
I saw this on the Quick [name_u]Poll[/name_u] Thread and decided to go back to see how much Nameberry has changed over 12 years and counting! I then started to see a few posts from way before I became interested in names, and I eventually used the advanced search feature here to bring back some older BNGs I liked!
Even though I had a signature for about three weeks (from when I first joined NB to when the site changed), I do miss seeing signatures on here, but at the same time, I love the new layout! It did take a few weeks to get used to, but the more I played around with the new features, the more I liked it!
I agree! I love a lot of the new features, especially tagging people and notifications, but UC don't live up to signatures at all. I don't usually take the time to click everyone's UC as I read through posts, and seeing everyone's signature really made it easier to keep track of who everyone was and what their naming style is!
Despite this I think the new site runs more smoothly, I like that it is updating constantly as opposed to needing to refresh, I like seeing who is typing as they reply, and many other features