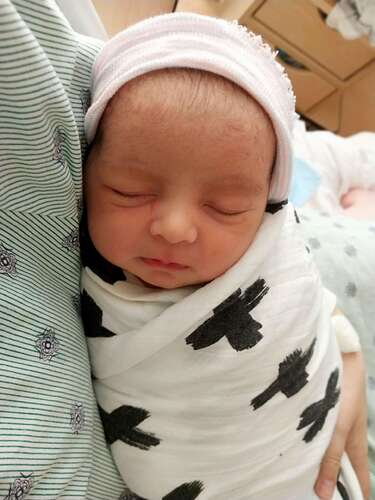 Aether [name_u]Emrys[/name_u] Summerset is finally here! He was born on [name_f]May[/name_f] the 20th after over 20 hours of labor. At a very lovable chonky 8 pounds and 5 ounces, he's got cheeks for days.
He joins his three big brothers and one big sister [name_u]Noble[/name_u] [name_m]Matthew[/name_m] [name_m]Pendragon[/name_m], [name_u]Rune[/name_u] [name_f]Vala[/name_f] [name_u]Evenstar[/name_u], [name_u]Frost[/name_u] [name_u]Cameron[/name_u] [name_u]Evergreen[/name_u], and [name_u]Light[/name_u] [name_f]Alifair[/name_f] [name_u]Loveday[/name_u]. They are all thrilled to bits to meet him, though [name_u]Light[/name_u] is still trying to decide how he feels about not being the smallest baby of the bunch anymore.
We waited until he was born to name him, but Aether was always one of our very top names. It means "bright sky" and he is named after his life verse that I've been praying for him every day since I knew he existed, [name_u]Daniel[/name_u] 12:3.
We debated about middle names for quite some time and were all over the place, but ultimately settled on [name_u]Emrys[/name_u] Summerset. [name_u]Emrys[/name_u] was mostly just a name we loved, as it being Merlin's Welsh name spoke to the absolute nerd in my spouse and me. We also liked that the origins are Welsh as it matched most of our kids having an either Welsh or Gaelic middle.
Summerset is an Old [name_f]English[/name_f] name found back as far as in the twelfth century and is also a type of lily (his birth month flower!) that symbolizes hope and peace, which we thought couldn't possibly be more fitting for our high risk baby, as those were two things we prayed for from [name_m]God[/name_m] every day, and pray that Aether finds as well in his life as he grows.
Thank you for all the help all you lovely Berries offered over the months through answering polls and offering suggestions. Now to mourn all those gorgeous names I didn't get to use to name an actual baby, as Aether is our last.