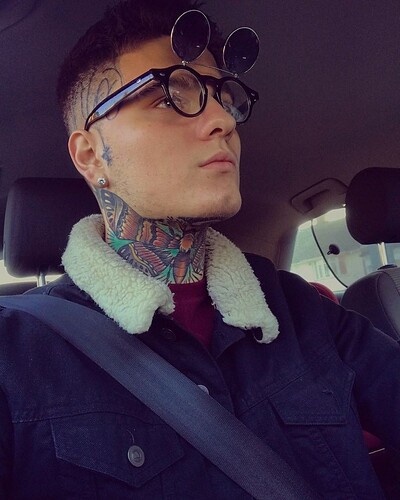 Christopher " Toph " Thiago Gonzalez (25) is Hannah's partner and father of their daughter, as well as the eldest of his siblings. A body art enthusiast, Toph doesn't work as a tattooist himself, and is actually in the process of becoming a dentist, something that shocks a lot of people when they hear about it. He's working as a dental nurse while continuing school, a job that provides much needed experience while helping motivate Toph to press onwards with studying, and while some balk given his unconventional appearance, it only pushes Toph onwards to complete his goal; considering it important to deconstruct stereotypes surrounding academia. He started college a little later thanks to becoming a parent shortly before graduating high school, but doesn't regret this decision for a second, as time with his daughter is the most important thing to him - although Toph never complains about his siblings wanting to spend time with her either, and actively encourages this bonding.
Following the birth of their daughter, things weren't entirely smooth between Hannah and Toph. There was a great deal of pressure placed on their shoulders - especially by the Hunt's, who felt their only child's future was seriously compromised by becoming a mother at 18 - and for a while, their relationship was solely coparenting. Toph's uncle - who's an architect and real estate mogul - let the couple rent one of his apartments [as a baby on top of the younger kids would've been too much for his sister and brother-in-law to handle, even though they were kind enough to offer], where they settled down. Not being a couple for the early years proved a blessing in disguise, as when there were disagreements or the stress got too much, the distance allowed Toph and Hannah to move past these spats quicker, as well as founding good communication with one another. They officially got back together in 2017, following their daughter's second birthday party - which was a lovely time for the whole family - and have steadily been together from that point on, something Toph's incredibly happy about.
Since 2018, there has been a reconciliation of sorts between Toph and Hannah's parents. By no means is there a close bond between him and them, but they're a lot more reasonable in how they view him, and no longer treat the situation as one of him ruining Hannah's life or somehow dampening her dreams, as she's been able to set up her own business as a wedding photographer now their granddaughter attends school. Toph's absolutely certain that he wants to have more kids with Hannah - their daughter's already been asking questions, as her best friend has three older siblings, and of course her dad's the eldest of five - but thinks he'd like to continue their family following the wedding, once that organisation and the associated craziness is over and done with. For their daughters' recent 7th birthday, they got her a kitten: a grey and black tabby who's been named Tigra by the family, after some discussions between the little girl and her parents, as she was a little overwhelmed at the choice [something Beth has been vocal about finding absolutely precious].